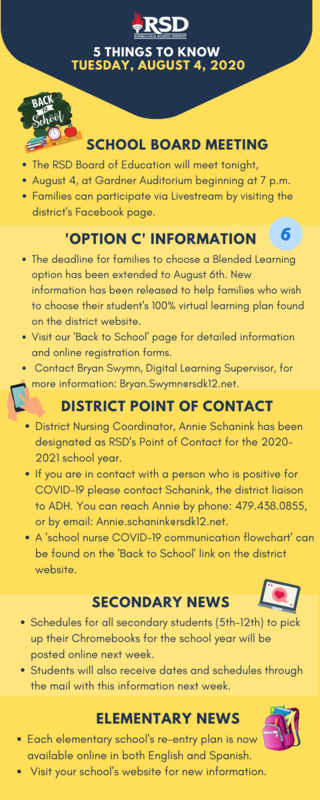 Here are 5 things to know from the Office of the Superintendent Dr. Mark Gotcher:
1. The RSD Board of Education will meet tonight
\r\n
Families can participate via Livestream by visiting the district's Facebook page
\r\n
2. New Option C Information has been posted, the deadline is August 6 for B or C Registration
\r\n
The deadline for families to choose a Blended Learning option has been extended to August 6th.
New information has been released to help families who wish to choose their student's 100% virtual learning plan found on the district website.
Visit our 'Back to School' page for detailed information and online registration forms.
Contact Bryan Swymn, Digital Learning Supervisor, for more information: Bryan.Swymn@rsdk12.net.
\r\n
3. The District Point of Contact
\r\n
Nursing Coordinator, Annie Schanink has been designated as RSD's Point of Contact for the 2020-2021 school year.
If you are in contact with a person who is positive for COVID-19 please contact Schanink, the district liaison to ADH. You can reach Annie by phone: 479.438.0855, or by email: Annie.schanink@rsdk12.net.
A 'school nurse COVID-19 communication flowchart' can be found on the 'Back to School' link on the district website.
\r\n
4. Schedules for Secondary Devices have been posted
\r\n
Schedules for all secondary students (5th-12th) to pick up their Chromebooks for the school year will be posted online

.
\r\n
5. Elementary Information
\r\n
Each elementary school's re-entry plan is now available online in both English and Spanish.

Frequently v

isit your school's website for new information.