Don't forget! Cyclone Cycling- RSD's mountain bike team, is having a team interest meeting at Old Post Park on Thursday, April 29th at 6pm at pavilion GS08.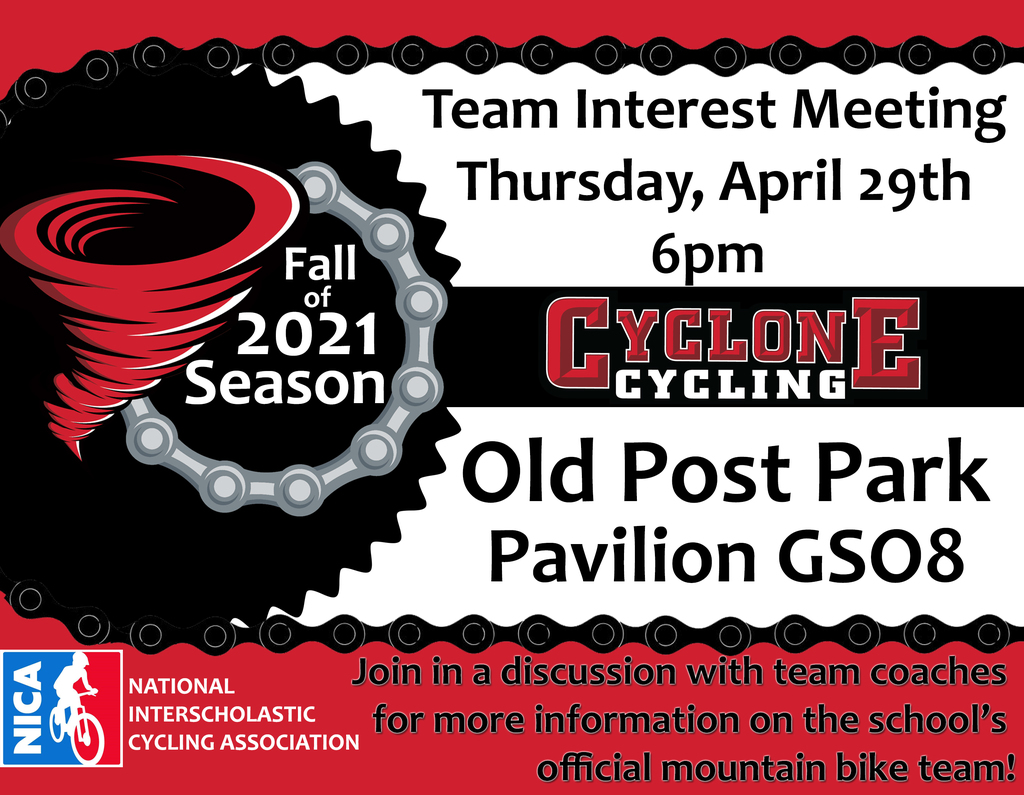 Make it Pizza Night at Papa John's to support our Cyclone Soccer Teams!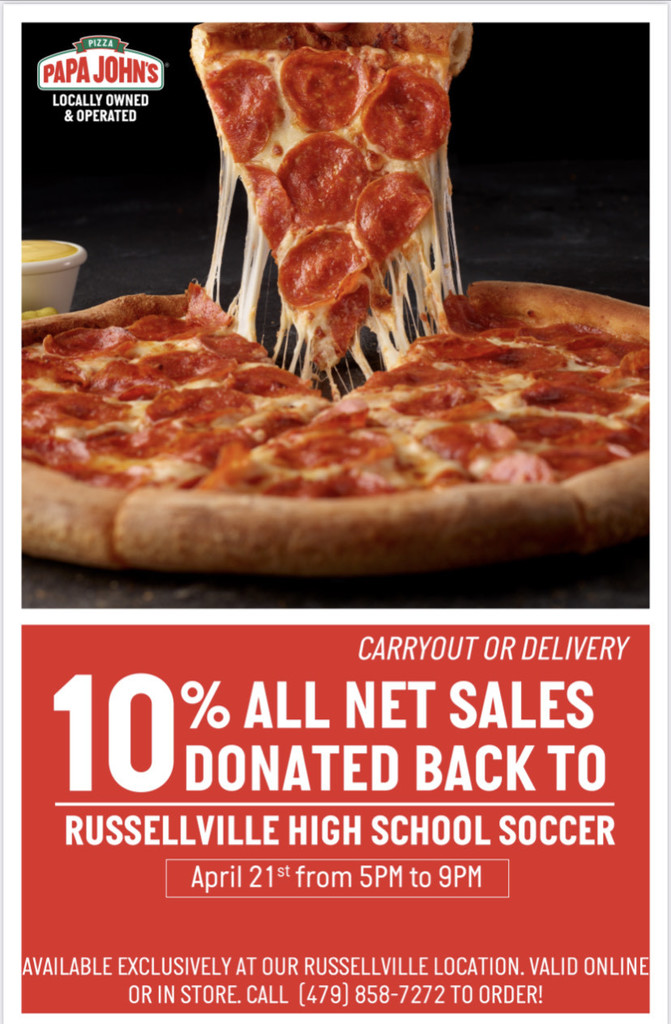 Have you visited our Enrollment page? We have one page for kindergarten, preschool, and virtual learning enrollment, as well as registration for new and returning students! You can also find important documents and instructions. Check it out!
https://www.russellvilleschools.net/page/enrollment1
*The deadline for RSD's virtual learning option is fast approaching! Register your student by March 31st!

Cyclone Football Parents (7th-12th grade) have a parent meeting scheduled for April 18 at 2:00 p.m. in the cyclone arena. Please plan on attending!

We want to hear from you! RSD would like to hear from our community, parents, and students! Please take the time to take this short survey on virtual learning. (Your participation is welcome even if you have no interest in enrolling your student in virtual learning for the upcoming school year.) ¡RSD quisiera saber de nuestra comunidad, padres y estudiantes! Tómese el tiempo para responder esta breve encuesta sobre aprendizaje virtual. (Su participación es bienvenida incluso si no tiene interés en inscribir a su estudiante en el aprendizaje virtual para el próximo año escolar).
https://docs.google.com/forms/d/e/1FAIpQLSenFWox4fMSLmOESRGOSS2XVf-GZW9Yc6w1W1p2xCgH7M7vTQ/viewform


Register now for CSI's First Tee Character Development Program at
www.csiyouth.com
Youth Ages 7-12 $15 participation fee, scholarships available March 23, 2021 9:00 a.m.-12 p.m. at Russellville Country Club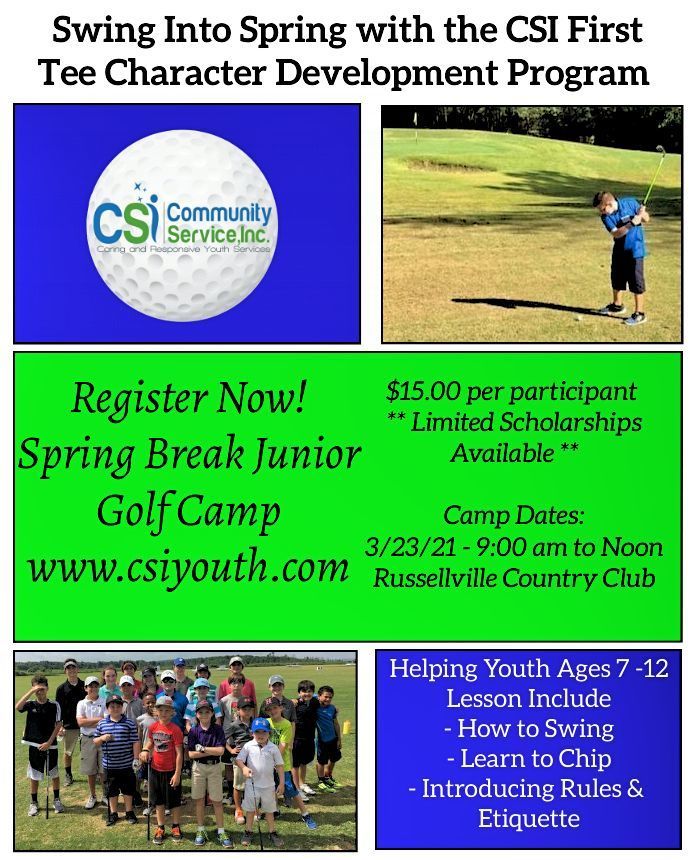 Cyclone Cheer has announced technique clinics as well as tryout dates for the 2021-2022 school year for 9th-11th graders. RHS cheer tryouts are scheduled for March 15-19 from 3:45 p.m.-5:45 p.m. Mandatory parent meeting is set for Sunday, March 14 at 2:30 p.m. Email Cheer Coach Amanda Coulter for more information,
amanda.coulter@rsdk12.net
.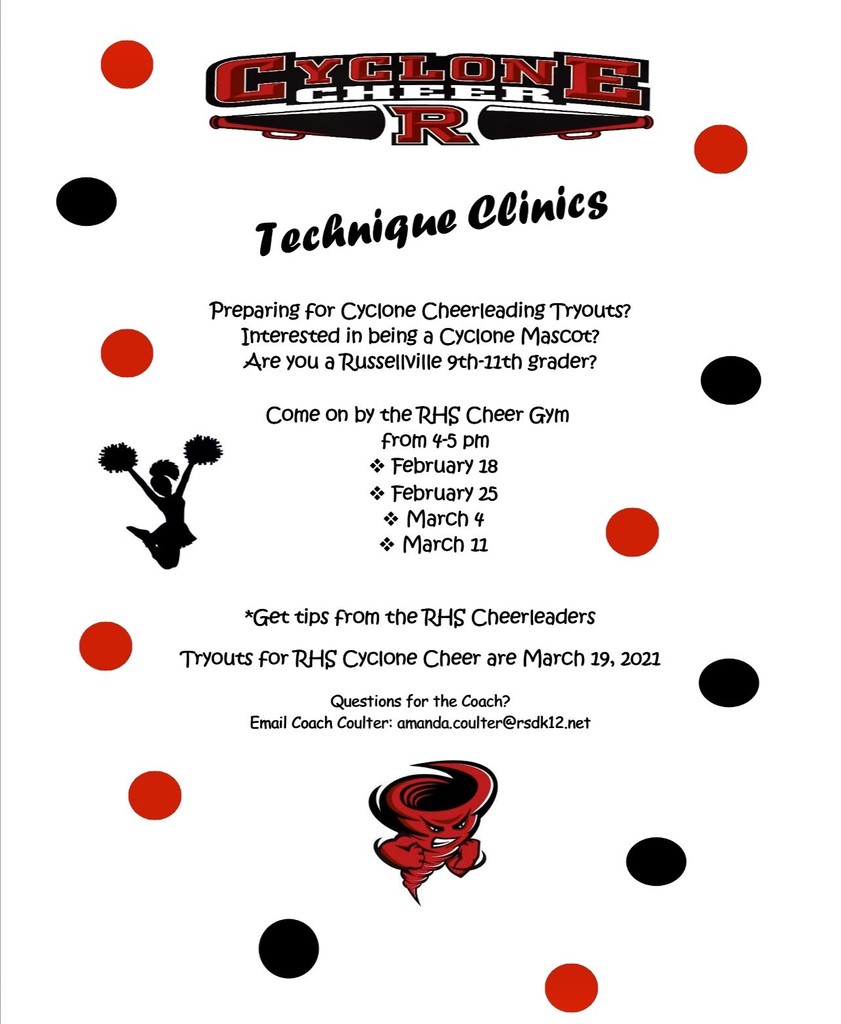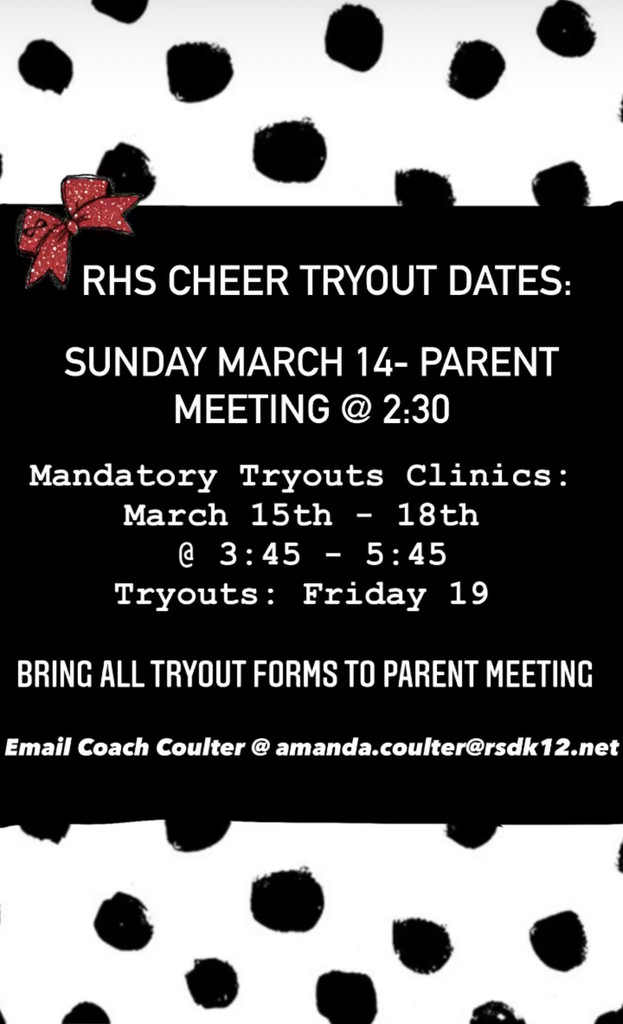 RSD January Employees of the month honored at the January School Board Meeting. Congratulations!

Congratulations to those employees recognized at last night's board meeting as RSD's January Employee's of the month!


RMS Lady Gales start their games vs Ray Simon at 4 pm. at the RMS gym. On Thursday, the girls games at Greenbrier begin at 4:30 pm.

Lady Cyclone make up games at Greenwood are scheduled for Jan. 25th will start at 4:30. J.V. girls will play at 4:30 followed by the Varsity girls game.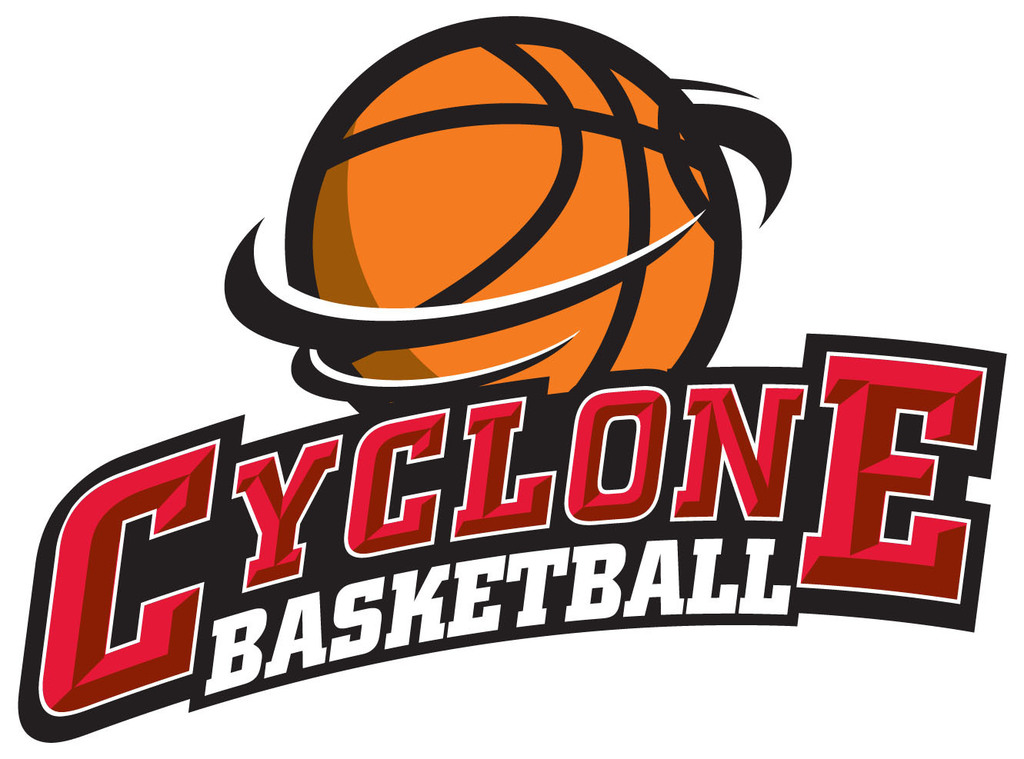 Make up dates for Lady Cyclones : Jan. 21st Greenbrier at Russellville-J.V. 5 pm & Varsity 6 pm, Jan. 25th Russellville at Greenwood J.V. 3:30 pm & Varsity at 4:30 pm Feb. 10th Russellville at Alma-Varsity at 5 pm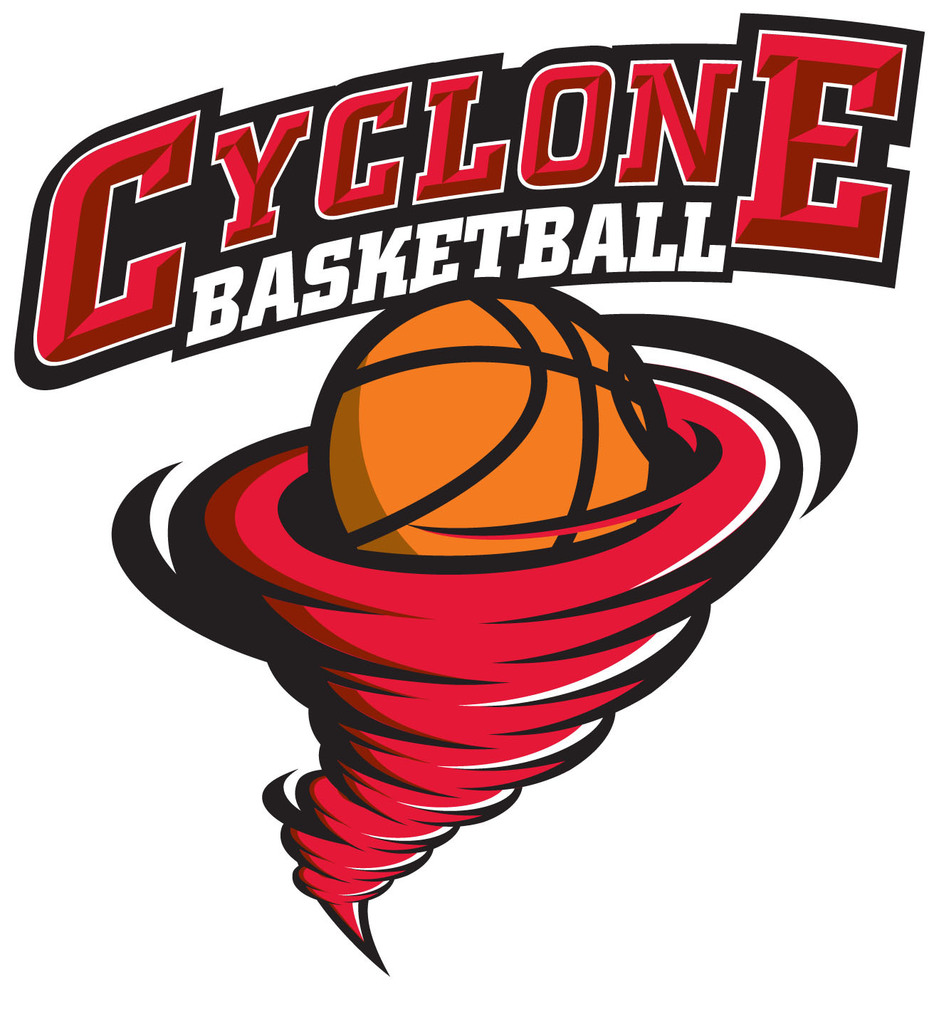 Changes made following Governor's address on Tuesday, December 12, 2021: The first groups in Phase 1-B will be eligible to get the vaccine beginning on Jan. 18. These groups are Arkansans 70 or older and education workers including K-12, child care and higher ed. Additional groups will be eligible in 1-B as supply increases.
https://www.healthy.arkansas.gov/programs-services/topics/covid-19-vaccination-plan
The chart below details the plans for Phases 1-B and Phase 1-C.

RHS Cyclone Varsity Boys Basketball will play Greenbrier today starting at 6:30 pm. Cyclone varsity girls will make up today's game against Greenbrier on January 21, 2021.